Euphrasie Barbier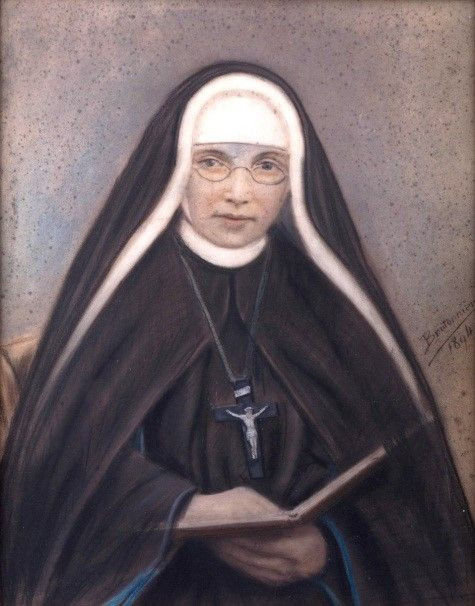 Euphrasie Barbier, a 19th Century French nun, with a particular vision and understanding of God as Trinity, founded the "Sisters of our Lady of the Mission", Les Religieuses de Notre Dame des Missions (RNDM), in 1861 in France, and the first four RNDM missionaries arrived in Napier, New Zealand in 1865.
The name she took was Marie du Coeur de Jesus. Devotion to the Sacred Heart of Jesus was a strong strain of spiritual devotion in France, especially in the mid 19th Century, as the Catholic missionary movement gained impetus.
So, most of the schools founded by the RNDM sisters are called Sacred Heart, in keeping with this rich tradition. Our Feast Day is the Feast of the Sacred Heart.
Euphrasie Barbier 1829-1893
She had four sisters and one brother
She herself was an asthmatic and suffered from poor health all her life
Her father was a shoemaker. Like him, she had a strong work ethic and took great pride in a job well done
She was stubborn and strong willed - "She did not give a thought to obstacles"
She was kind, hospitable and impetuous - demanding but very loving
She was outspoken, firm and committed
A part of Euphrasie was contemplative and drawn to the traditions of the mystics
1829 - born in Caen, Normandy, France
1848 - age 19, enters Sisters of Calvary, in Cuves, France
1861 - Christmas Day, given new habit - birth of RNDM order in Lyons, France
1865 - first sisters sent to NZ - Sacred Heart, Napier founded
1872 & 1883 - Euphrasie visits NZ, despite very poor health
1893 Euphrasie dies, having established 16 self-sufficient communities of Mission Sisters in NZ, the Pacific Islands, England, India and France
1897 - first mission sisters to Australia (from NZ)
Feasts
The actual patronal feasts of the RNDM Sisters are The Visitation and Pentecost.
Pentecost and the Feast of the Sacred Heart vary every year. They are tied into when Easter falls, according to the lunar year. Pentecost is 50 days after the Resurrection. Trinity Sunday is the week following. Corpus Christi is the following Thursday, followed 8 days later by the Feast of the Sacred Heart. This Feast was added officially to the church year in 1856.
Euphrasie Barbier quotations
Simplicity is interior peace and joy.
There, in the sanctuary of his Heart, He will keep you gathered together.
She who is humble never humiliates.
Let us serve God with faith, love and fidelity.
The sisters must show humility, poverty, modesty and simplicity of heart.
Alone with God alone.
Let us listen to him…..he will bring to light for us the depth of charity.
What you are not able to do today you will do tomorrow!
Be kind to everyone; give everything a good interpretation.
The remedy is in peace.
Do not listen to criticism and never criticise anyone.
Leave without a word of reproach or murmuring.
We must sometimes leave God for God-in-the-person of the neighbour.
Let your task be to encourage.
We can lighten difficult burdens by our thoughtfulness, a kind smile and a little service.