Rebecca Bourne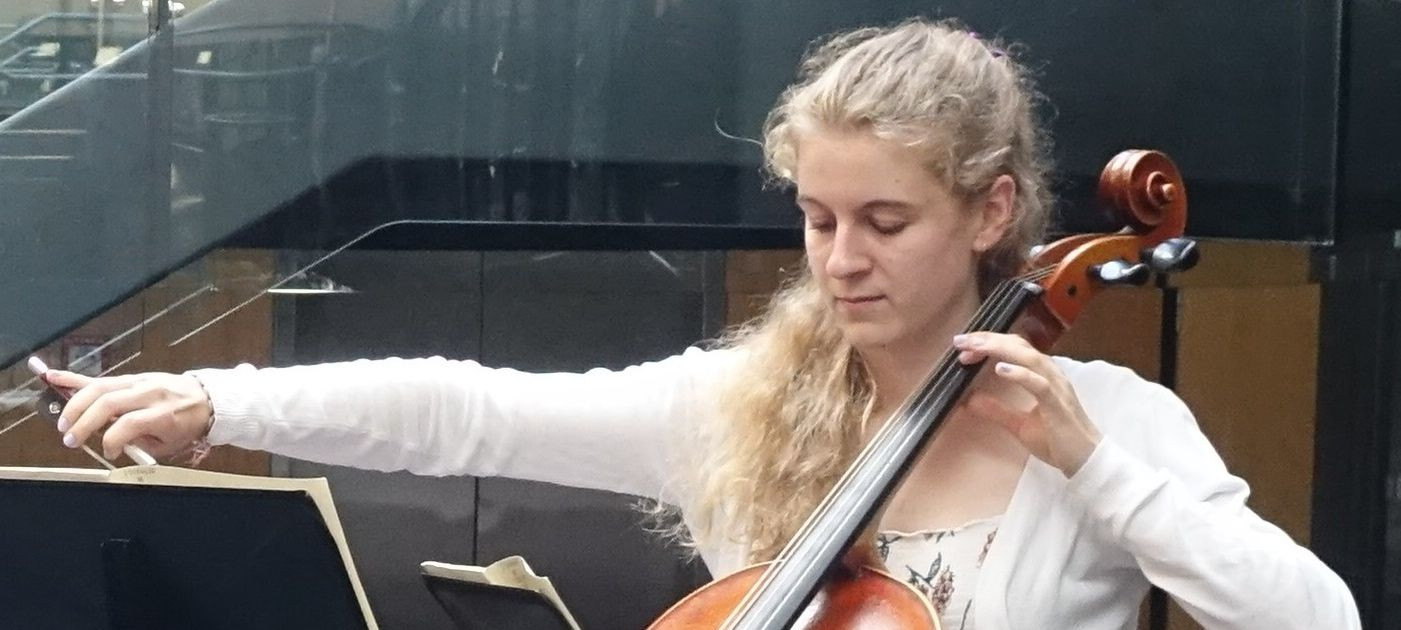 Rebecca Bourne BMus(Hons), AMusNZ, has a lot of experience as a teacher; she began volunteering at Arohanui Strings as the first cello teacher when it began in 2010 and continued this for five years before she began her university degree. She began private music tuition in 2012 and has gradually expanded her studio over the last eight years.
Rebecca now teaches 27 students and hopes to increase this number next year. She has completed three teacher-training units and has plans for a fourth in 2020. Rebecca also enjoys teaching cello group classes and occasionally conducts a cello ensemble.
Rebecca began her musical journey as a pianist at age five, and as her love for music developed she began cello lessons at age 12. She completed her Bachelor of Music with First Class Honours in 2018. Rebecca is currently studying towards a Master of Music degree at the New Zealand School of Music, learning under Rolf Gjelsten of the New Zealand String Quartet. Her thesis explores the Suzuki cello method and her final performance will include many of the advanced pieces in the Suzuki cello repertoire.
Rebecca has played in many orchestras since starting the cello. These include playing professionally with Orchestra Wellington and as an intern with the Auckland Philharmonia Orchestra. Rebecca is the Principal Cellist in the Wellington Chamber Orchestra, the Wellington Youth Orchestra, and the New Zealand School of Music String Ensemble, and she is a member of the National Youth Orchestra. While studying as an undergraduate Rebecca was the Principal Cellist in the NZSM Orchestra for two years and now joins them as a substitute player. She has also played with a range of chamber ensembles and has been accepted twice into the Adam Summer School chamber music festival. Rebecca's string quartet has played for multiple events at government house, representing the NZSO National Youth Orchestra for the Duke and Duchess of Sussex's visit to New Zealand, and they performed at LifeFlight's annual Gala-Auction in 2018. Her cello duo has performed at the British High Commission and at the Wellington Club.
Rebecca started her university degree with the NZSM Director's Scholarship for exceptional auditions on piano and cello, and based on the results of her first and second years of study she was awarded the Bal-Na-Shee cello award, given to "A Gifted Cellist Studying at the New Zealand School of Music, who shows promise for a professional career in cello", for her second and third years of study. This award included the use of a beautiful Thomas Kennedy cello which was made in 1813. Rebecca was then awarded the Ian Lyons Cello Award and the use of the late Ian Lyons' cello, and most recently she was awarded a full scholarship towards a Master of Music degree based on the results of her honours degree. During her time at university Rebecca competed twice to win a solo opportunity with the NZSM String Ensemble, performing two different concerto movements, and was nominated to compete in the National Performing Arts Competitions Association of New Zealand ('PACANZ') Instrumental Competition.
Rebecca has participated in masterclasses with Brinton Averill Smith, Andrew Joyce, Sigiswald Kuijken, Michelle Kessler, Leonard Elschenbroich, Katharina Gross, Alvin Wong, Ashley Brown, Ray Wang, Howard Penny, Shmuel Magan, Takao Mizushima, Carey Cheney, Sally-Anne Brown, and Margaret Cooke. She has had private lessons with Rolf Gjelsten, Inbal Megiddo, James Tennant, Eliah Sakakushev-von Bismarck, James Yu, and Emma Goodbehere.